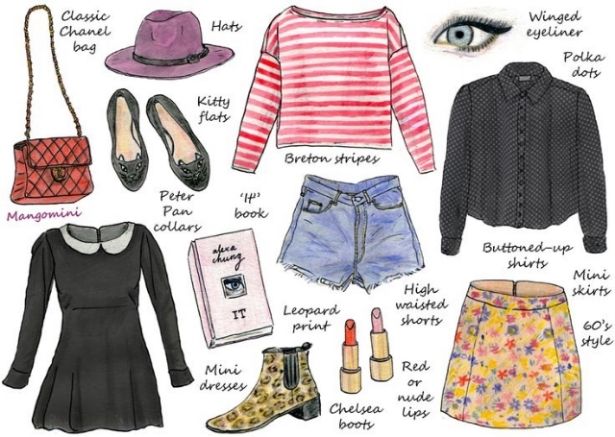 Pinterest has given birth to ions of inspration and introduced the general population to loads of great talent. Talent like Mangomini and her amazing sketches. Flat lays and edits are one of my all time favorite ways to display items and outfits. Add on my mini obsession with sketches and slightly simplistic art pieces and you've made a Munachi lovefest.
Alexa Chung is my homegirl
and her style is a coveted thing among fashion lovers like myself. Having a sketch to reference whenever I am in need of "It Girl" inspiration Mangomini doesn't disappoint with her "How To Dress Like Alexa Chung" piece.
Even more coveted that the Alexa Chung's Brit "It Girl" style is that of the common French girl. I'm teetering on being entirely fed up with the American obsession with French style and falling into the vortex that is a closet full of breton tops, dark jeans, and red lipstick. I'm currently wearing a striped top, black jeans with sequin accents. black combat boots, and red lipstick. My curled hair is swept to one side and the shoulder seams of my shirt feature silver chains and bow shaped studs. So I guess you can say I'm embracing French style in an American and edgy way. All I need is a baguette and brie to complete the Mangomini look.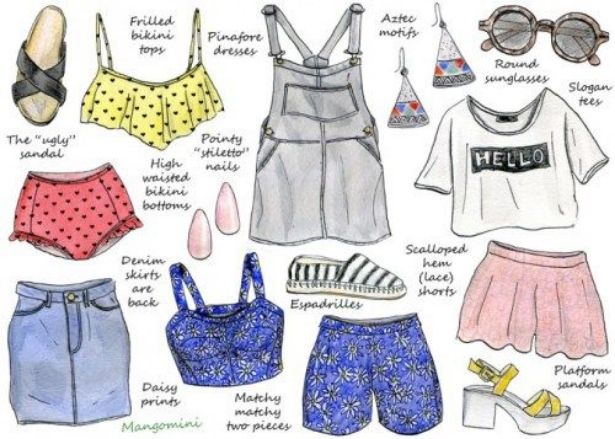 Who doesn't love a Summer 2k14 roundup. Wrapping up the summer in style by bringing together all of the trends it featured makes for a top notch Mangomini sketch. Platform sandals, high waisted bikinis, round sunglasses, daisy prints, and espadrilles coming together to define these past few months is now immortalized in this piece by Mangomini. Adios summer, hola fall fun!
Photos from Pinterest