When it comes to beauty products, being a black woman in a white woman's world is a serious struggle. I know that every makeup tutorial I watch on YouTube or beauty product review I read in a magazine isn't geared towards someone like me. My hair doesn't work with products the same way theirs does; makeup doesn't look that way on my face the way it does theirs. Everything I hear, watch, or read has to be altered because I am not the company or vlogger's ideal consumer. As a black woman I've always had the short hand when it comes to buying or using beauty products and for the most part I have always been okay with that. But imagine my excitement when not one but TWO black women were named the face of two popular beauty brands. A few weeks ago it was announced that Lupita Nyong'o would be the new face of Lancome and just a few days ago Jourdan Dunn was named the new face of Maybelline. They are both beautiful black women and I can't wait to see what each of these campaigns have in store for them.
Of course I couldn't leave you all with just that exciting information for week 3 of Makeup Mondays! This week I want to talk about all of the makeup products I've used and love for women of every color. Whenever I find a beauty product I love I want to share it with the world and convince everyone who will listen to buy it. So here I am for this third installment of Makeup Mondays trying to convince you to buy all of these amazing beauty products I love so very much.
Kiss New York Cover and Acne Cream Foundation is a colored woman's dream! It is a foundation and concealer in one and makes even the darkest spots blend in with your complexion. I have been using it since I started wearing foundation and it is the only product I use now that I used back when I first started wearing makeup. I don't know how else to describe it other than that I love it! All I can say is Google the before and after pictures of people who use their products because they are incredible and 100% accurate. Even-toned, luxe skin is now at your fingertips.
Mascara is tricky business for me. My eyelashes vary greatly in length and curl. Some of my lashes create a full barrel curl while others stick straight out horizontally. My complicated eyelash situation makes finding the right mascara difficult, but I've found that LashEm Extensions In A Bottle mascara works wonders. It's a double sided bottle -- one side has black mascara and the other side has a white fiber that contains lash extension serum. Within one week of using it I noticed my eyelashes looked longer and more uniformly curled. Now instead of combining three different mascaras to get the perfect eyelashes I use the black mascara side once, then cover it with the lash extension fiber, and finish it off with one top coat of the black mascara. Simple. Easy. Just one and done!
3) PHYSICIANS FORMULA Bronzer
I never used bronzer up until four months ago. I tried out a few here and there, but none of them really stood out to me or suited my fancy. One day I saw Physicians Formula Bronze Booster Glow Sun Stones for a really good deal and purchased it with no intention of using it on a daily basis. After just one use I fell in love. I applied it over my blush and it created such a natural look that I questioned why I hadn't bought it before. Never have I ever found a product that makes blush on a black woman look so natural!
I have used Avon's Ultra Glazewear Lip Gloss for four years and I absolutely love it. I originally ordered the sample size of Darling Pink, but when I realized how amazing it is I ordered two more tubes. I continued to order new bottles once the one I had ran out until they discontinued Darling Pink a few months back. Luckily last month they decided to bring it back so now Darling Pink is here to stay. But just in case I ordered three tubes and I couldn't be more excited to cover my lips in pink goo each morning.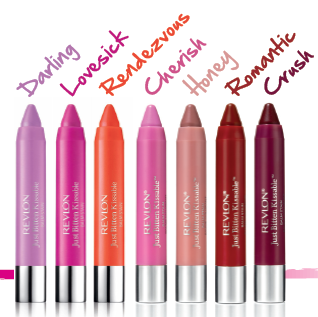 I don't really like the intensity of most lipstick so I usually buy lip crayons. The best lip crayon I have ever used is Revlon's Just Bitten Kissable Balm Stain (which has now been renamed ColorBurst Balm Stain) in Cherish. It has a refreshing minty smell whenever you put it on your lips and the color appears soft and lasts throughout my day. Among all the other lipsticks and crayons I've tried and compared, Revlon's Just Bitten Kissable/Colorburst balm is the best. Lipstick like coverage meets the subtlety and softness of lip balm.
Photos from FashionGoneRogue.com, BeautyGeekUK.com, musingsofamuse.com